Many events incorporate Promo Girls or Models to create interest and add a more personal element to your marketing message. Some of the outfits Promo Girls have to wear vary  from figure hugging body suits to skimpy bikinis. Below are just a few that I found on Google Image Search: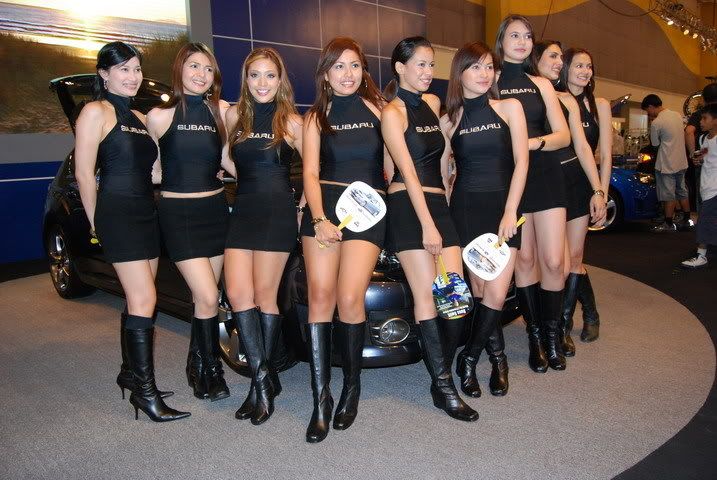 Many of these outfits need to be custom made and because the average order quantity is not large it can be an expensive process. If you do not want to go to the expense of having your Promo Girl outfits custom made we have a range of American Apparel clothes that can be branded with a screen print on the front and back (some side prints available on specific styles), digital transfer or embroidery of your brand.

JEM Promotional Products are American Apparel wholesale providers so you get the best pricing.The American Apparel range have various neck lines to choose from such as scoop, v-neck and round neck. They also have different garment lengths available. The key factor is that the majority of their garments do not have embellishments. Their focus is on fabric and cut which means that there are no issues for us when it comes to branding. Embellishments such as buttons or beads will prevent us from being able to easily brand the item because to screen print we need a flat smooth surface on the garment.
One of the best features of American Apparel is that all their styles come in an extensive range of colours so the chance of finding a colour to match your brand is very likely. Below is an example of the colours available for the Rib U-Neck Tank:
We have access to the whole American Apparel wholesale range so if your model needs shorts, socks or any other American Apparel accessories we can provide these also.
In the above photo our Exodus Hoodie model is actually dressed in our custom designed Exodus Hoodie as well as American Apparel Interlock Running Shorts & Unisex Stripe Knee-High Socks.
All of the American Apparel range is shipped from the USA so our standard lead-times extend to about 4 weeks.
Please note that because these shirts are also used for the retail market the styles are constantly changing. To see the latest styles please contact us on (02) 8205 1334 or enquiries@jempp.com.au. We recommend that when you call or email you provide some details of your event, colour you are after and the rough budget you have to work with…this will help us to provide you with the best options!
Related posts: